Assalamualaikum,
Senyap aku sejak minggu lepas nampaknya berisi juga hari ni. Puas aku carik beberapa barang lama sejak semalam, akhirnya membuahkan hasil akhirnya. Hari ni kena jugak tayang coz esok aku nak meniaga kat maeps. Kot-kot ada yang sangkut hasilnya esok. Teko minggu ni tarak, sorry puas den carik tapi tak dapat. Ada tapi orang takmo jual plak. Tu la aku dah kata sejak minggu lepas, memang susah nak cari barang nowadays. Kalau ada pun orang nak simpan, takmo jual (macam aku juga la hehe). Tapi aku suka simpan yang rare, rare, vintage, yang susah nak carik. Teko pun aku tengah collect yang lain dari yang lain munganya. Tunggu la next time aku tunjuk koleksi aku plak.

Anyway, bebel-bebel pun tak guna baik aku tepek gambarnya. Antara barangnya 3 pinggan bujur bunga lalang, 1 pinggan bujur bunga kangkung, 1 turin kecik kosong takda munga, 1 jug warna biru (aku reserve kan pada Kak Tie coz jug ni sesuai untuk gelas berkaki yang aku jual kat dia tempohari), 1 pasu berbentuk Swan (besar) dan 1 balang besar letak cookies lama (memang oldskool coz tutup dia kaca, masih cantik condition).
Ok lah ini dia barang-barangnya.

Dari kiri balang kaca lama, turin kecil takda bunga, pasu swan besar dan jug biru.
Balang lama besar dan berat. Kacanya tebal dengan penutup kaca juga. Harga:

RM45

sold!

(ada 2) 1 sold to Kak Aina, 1 sold to non-blogger
Turin/ Turene putih bersih tanpa bunga saiz kecil. Harga:

RM40

sahaja (SOLD!).
Jug warna biru, sesuai untuk sesiapa yang dah ada cawan berkaki kaler biru. Boleh kasi match sama dia. Harga:

RM30

sahaja (

SOLD to Kak Tie

)
Pinggan nasi bujur bunga kangkung. Harga:

RM35

sahaja (

SOLD to Welly

).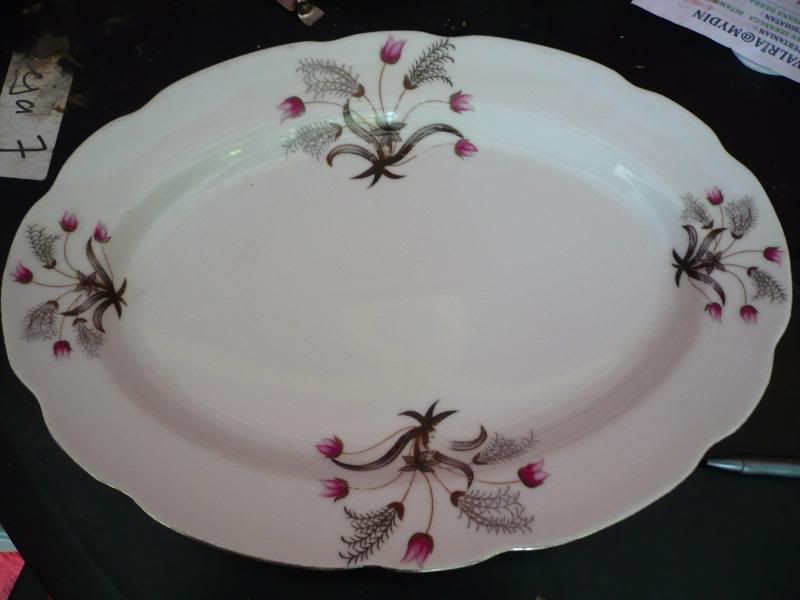 Pinggan nasi bujur bunga lalang. Harga:

RM30

sahaja (

2 SOLD!

tinggal 1) dua dah di booked by Kak Aina and sorang non-blogger.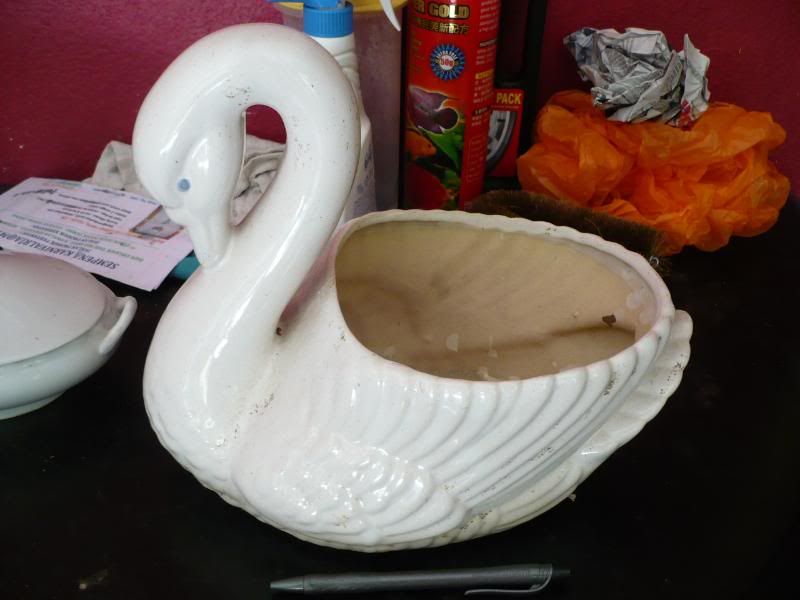 Last sekali, pasu besar bentuk swan. Yang ni kalau sesiapa berkenan aku let go, kalau tak laku-laku jugak aku nak simpan. Harga:

RM44

sahaja.
For booking or reservation, sila sms aku di 013-2296679 (zul). Pembeli digalakkan mengambil barang di bazaar@Maeps Serdang on Saturday coz barang-barang di atas mostly porcelain dan kaca takut pecah kalau aku pos.